Engraved Smith and Wesson K22 Masterpiece, 5 Screw
Cal. 22 LR, 6″ Bbl (Revolver has at some point been rebarrelled) Fully engraved, relief carved Ivorex grips. Very good Condition. Mfg August or September of 1947, SN K6XXX.
Sorry about the photo quality, it doesn't do this lovely Smith justice. We'll try to get a better shot up soon. (Of course, this is the sort of gun that will probably sell before we get a chance to update!)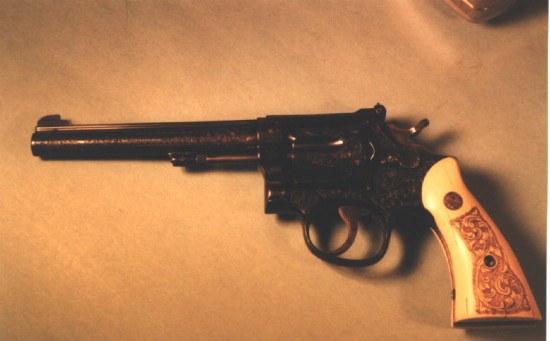 SOLD! New pistols to be engraved can be ordered for you at Dealer Cost (+Shipping). Must be shipped to an FFL.
*Note On FFL…If you don't have a Federal Firearms License and one is required, please contact your local firearms dealer and we will ship to them.
Call Gouse Freelance Firearms Engraving at 406-363-0254 or contact us online to inquire about your own custom engraving work.