Michael Edward Gouse
Michael Gouse is a full-time gun engraver who lives in Western Montana. Michael specializes in styles of the Old American West such as Gustav Young , L.D. Nimschke, Ulrich, & Cuno Helfricht. His work also includes scrolling of the old English and Germanic styles as well as the many variations found in custom gun engraving. Michael's work is in many private collections, cherished for its beauty and authenticity.
We offer Letters of Authenticity attesting to the fact that Michael ( who is, and always has been, the Sole Engraver for Gouse Freelance) personally engraved your firearm.
Michael has an extensive background in pen & ink illustration. Some of his credits include "Emergers & Back Country Fly Fishing in Salt Water" by noted fly fishing author Doug Swisher, and "Quack in the Saddle" by Paul Stanton.
The Dream of Owning a Fine Engraved Firearm Can Be Yours
Imagine your favorite shotgun embellished with scrollwork… your favorite game bird on one panel, and your trusty dog on the other… Picture your Cowboy Action guns engraved in a turn of the century style with your alias as well… Or your cherished and relied upon Double Action engraved with scrolls, or maybe your badge…
This lovely Colt Single Action is engraved in a Nimschke style.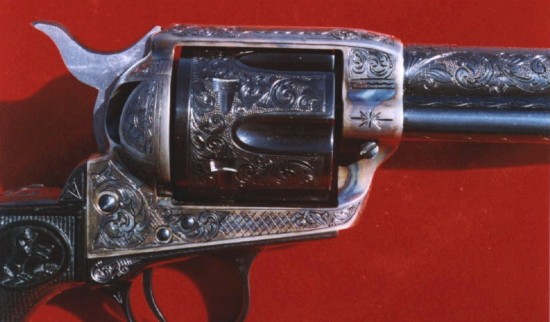 This Walthers is Relief Carved in Oak Leaves and Acorns. In relief work, the metal outside the design element is carefully removed. This gives you a raised and framed design which is then highly detailed.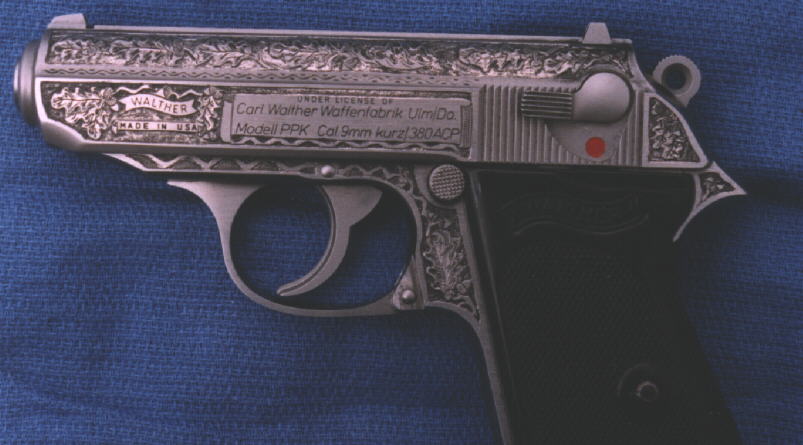 This Henry is covered in elegant American scroll work with design framed initials.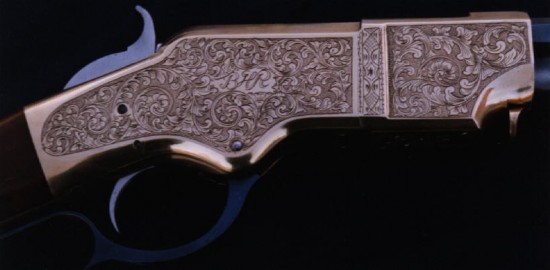 Visit the Engraving Album to see inspiring options for your engraving projects or view some of our fine engraved firearms available for sale. View pictures of custom engraved fine firearms including pistols, rifles and shotguns throughout this website. You'll also find information on pricing for Michael's exquisite workmanship.
Custom Engraving on New and Treasured Firearms
New Firearms to be engraved can be ordered for you at Dealer Cost (+Shipping). Must be shipped to an FFL. If you don't have a Federal Firearms License and one is required, please contact your local firearms dealer and we will ship to them.
Call Gouse Freelance Firearms Engraving at 406-363-0254 or contact us online to inquire about your own custom engraving work.