Uberti 1862 Pocket Police – Sold
Fully Engraved Nimschke style. All Italian markings have been removed, and the revolver is remarked on the frame under the trigger guard. This pretty little gun is Silver and Gold plated, then slightly antiqued.
Cal 36, 5 shot, 6 1/2″ Bbl, Excellent Condition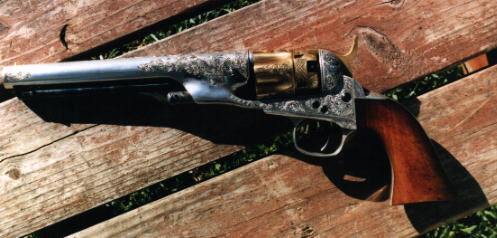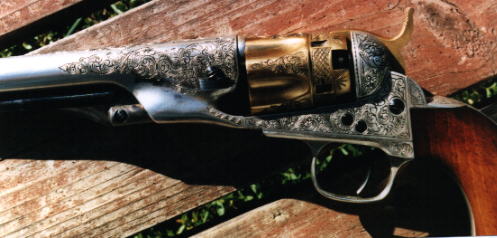 $675.00 * No FFL Required. SOLD!
New Firearms to be Engraved Can be ordered for you at Dealer Cost (+Shipping). Must be shipped to an FFL.
*Note On FFL…If you don't have a Federal Firearms License and one is required, please contact your local firearms dealer and we will ship to them.
Call Gouse Freelance Firearms Engraving at 406-363-0254 or contact us online to inquire about your own custom engraving work.