Manufactured between 1888 – 1892, See Flayderman's Guide. Caliber 22 Long Rifle, 26″ Octagonal Barrel. This rifle has a checkered "fish-belly" stock with a Swiss buttplate and is single-triggered.
This Hopkins & Allen Schuetzen Rifle is fully engraved in the style of L.D. Nimschke by Michael Gouse. It may be the handsomest H & A in existence. The rifle features a relined barrel by the famous Montana gunsmith, Dennis Olsen, and a new rear sight. The barrel has been buffed and hot blued, all the markings are clear. The receiver has been recolour cased.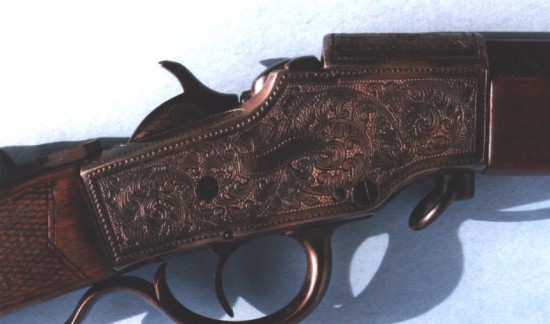 Call Gouse Freelance Firearms Engraving at 406-363-0254 or contact us online to inquire about your own custom engraving work.